Welcome to the apartments "Eftihia  Studios" and"Eftihia  Mare".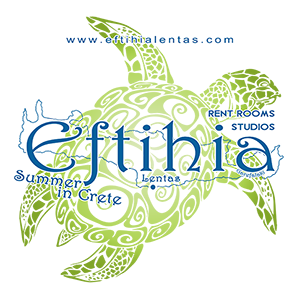 Created with the love and care, as a small family owned service for twelve years, we offer our guests the best of tradition and hospitality with well equipped, clean rooms. The unit "Eftihia Studios", are located in the center of the village, and the "Eftihia Mare" is one room situated just above the waves of the Lybian sea.
The owner, Eftihia Garefalaki, inherited the love for tourism from her family ( katerina & Letfteris Garefalakis). Renowned for her hospitality and her accountability, always making guests feel at home. The rooms are taken care of, by the owner over the years with much dedication, love and care. She promise that you will have a relaxing and carefree holiday. 
The "Eftihia Studios" are located in Lentas, just at the point of the ancient settlement of Levin, south of Heraklion on the seashore of the Asterousia mountain rang.